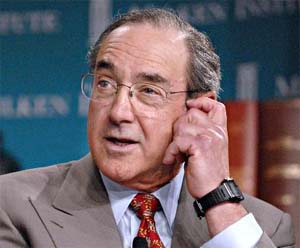 Bob Toll was recently interviewed by Florida Trend and provided his candid view of the Florida Real Estate Market for luxury homes. Toll is the chairman of Pennsylvania-based home builder Toll Brothers, a Fortune 500 company and the leading builder of luxury homes in the United States. Toll was named one of Barron's Top 30 CEOs worldwide in 2005, when the publication recognized him as the "the undisputed king of high-end housing."

Toll says the luxury home market is still looking for a floor in most regions of the state, with Naples the only bright spot. "I think the market has already bottomed in Naples but not on the southeastern Gold Coast, Orlando or Jacksonville," Toll says.

In the Orlando market, it takes a real bargain to interest buyers, he says. Many buyers are walking away from deposits — a trend that's prompted the company to require additional funds as its new homes move toward completion.

"In the Naples-Fort Myers market, sales activity is definitely up for new homes on the market at reduced prices. That's a definite contrast to late 2007, when you couldn't give away a home regardless of price."

The luxury Jacksonville market "is in the doldrums in a serious way," largely because it's a primary home market where potential buyers are sitting back until the national economy perks up.


What's killing housing today is a lack of consumer confidence

While the demographics are different in Palm Beach County and the Treasure Coast — far more snowbirds and pre-retirees — the sales pace is also slow. One reason, Toll says, is that buyers are having a hard time selling their current properties to move up to a luxury home in Florida.

He does provide a hint of a successfully strategy that has consistently served him well through previous downturns:


You move from an expansion mode to protecting your balance sheet immediately,

Then you hunker down, build up your cash, wait for the blood in the streets and take advantage of the opportunities.
The resolution of Florida's Property Tax crisis is a critical element in the recovery of the state's real estate market. The taxpayer's burden has reached untenable proportions and has prompted various citizen-led measures to cut Florida property taxes and rein in wasteful spending of municipalities and counties. Local public officials had engaged in a massive spending extravaganza during the bountiful years of ever rising property values instead of saving for a rainy day. The spending was more related to availability of funds for pet projects that actual demand for services.

The rainy day is here, however.

On the bright side, as Toll and many other successful real estate investors have shrewdly found out, is that the opportunities presented for the astute buyer during these times will not present themselves again for a long while. Foreign investors have also realized this. Currently they account for 18% of Florida buyers, a number that's growing daily.

Oh... About Jacksonville, Watch this video of what it has come to...